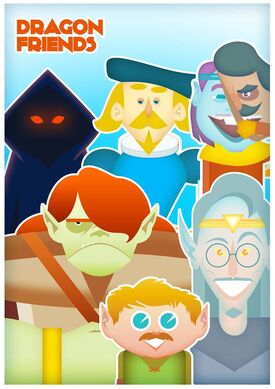 Welcome to the Dragon Friends Wiki
Strap on your jerkin! Grab your favourite longsword! Roll some 20-sided dice! The time for pizza is over! The time for adventure is now!
Dragon Friends is a monthly comedy show and podcast where three four comedians muddle through Dungeons & Dragons adventure campaigns, and this is its Wiki! There is plenty of room for new additions. Just create an account and dive right in. The wiki guidelines are also here to help you.
🚨 This wiki is NOT a spoiler free zone! 🚨
Important Links
Ad blocker interference detected!
Wikia is a free-to-use site that makes money from advertising. We have a modified experience for viewers using ad blockers

Wikia is not accessible if you've made further modifications. Remove the custom ad blocker rule(s) and the page will load as expected.